DSL Studio
The Evans Library Digital Scholarship Lab is home to a fully-equipped video recording and podcast studio.
The Studio is divided into the following areas:
Video Recording Studio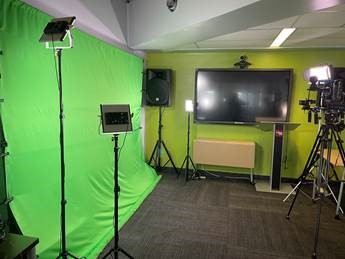 4k camera with tripod
12-60mm lens
Green/black/white backdrops for filming
Podium for presentations
4 LED light panels
Podcast Studio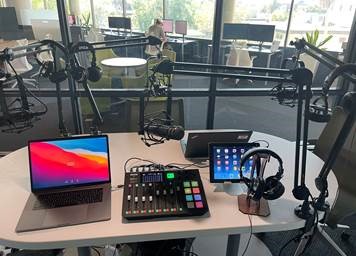 Broadcast quality mics (4)
Rode podcast mixing/recording board
iPad with sound effects
MacBook Pro for recording to GarageBand or QuickTime
Additional laptop for browsing internet
Audio Recording Area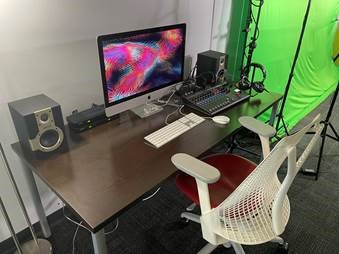 12 track recording board system
Studio condenser microphone and pop filter – professional mic for any recording needs
Mac computer with GarageBand, and Logic Pro – quality computer with good recording software
Wireless mic system for video recording – patrons can wear lapel mics and have their voice better heard if using the camera
Studio monitors – very clear speakers for this computer
VR Creation Station
Oculus unit for use of viewing projects being worked on
Windows PC with programs commonly used with VR/metaverse creation

Unity
Blender
Unreal Engine
iClone 7
Z-brush
Marvelous Design
Adobe Creative Suite (coming soon)
Video Editing Station
Windows PC with Adobe Premier Pro (program coming soon)
Wacom tablet for digital drawing and editing
Zoom Conferencing Station
Windows laptop with browser capabilities
High-quality microphone
Quality video camera with built-in ring light
Suitable for Individual podcasting or teleconferences
Plan your podcast
To help plan for a podcast we have created a fillable pdf Podcast Planning sheet that you can save to your own computer and fill out as needed. This sheet will help you keep track of the details of your overall podcast. To help plan the recording of your episodes we encourage you to use the Podcast Episode Planner. These two planning sheets should help you organize your podcast, your episode recordings, and the distribution of them.
Schedule your podcast recording
Students, faculty, and staff are encouraged to reserve the room by emailing Martin Gallagher and scheduling time in the studio.